---
SUMMER 2018 NYC: GOALBOOK USER SYMPOSIUM
In the summer, the Goalbook User Symposium will convene school and district teams together in New York City to learn from each other's work in supporting teachers to transform instruction. The Symposium will allow you to:
Hear from districts around the country on how they've tackled instructional challenges around rigor, engagement, standard-based instruction, and supporting ALL students

Present your district's progress and achievements to educators and leaders, and to receive their ideas

Hear firsthand about our latest product updates and how NEW resources can support your educators

Work in-person with your Goalbook Success Manager on planning your district's implementation and professional development

Learn how Goalbook's Program Evaluation Framework helps you measure the impact of your instructional initiatives

Feel empowered to lead instructional change with a better understanding of how Goalbook can help them
More information on the User Symposium will be posted in spring 2018. Early registration will be opened to those who are on the priority registration list.
---

APPLY STARTUP & DESIGN PRINCIPLES TO SOLVE INSTRUCTIONAL CHALLENGES
It's estimated that 9 out of 10 startups fail in the first three years. Similarly, many instructional initiatives at school districts fail at accomplishing their goals. These failures in districts and schools often happen in the implementation stage.
In the business world, lean startup and design thinking principles have been developed over the years to achieve more consistent success. From the start of Goalbook, our team has been focused on learning how to apply startup and design principles to ensure successful implementations. Now, more than 500 district partners around the country partner with us so that we can collectively implement sustainable changes to instructional practice across each and every school in the district.
WHY ARE OUR INSTITUTES EFFECTIVE?
Improving instruction across the district is what can be referred to as a "wicked problem." These are complex problems where the end goal is known (i.e. student outcomes), but it is immensely difficult to even frame and define the problem, and the solutions are even less known. Instructional challenges are exactly this. There are a multitude of factors that can impact teaching from one school to another. As district leaders are all too aware, professional development and implementation efforts often fall short of their goals.
We help you bring startup and design principles back to your district. These principles teach you how to define instructional problems more clearly through user interviews and user empathy. Of course, our users are teachers because they are the ones responsible for making instructional decisions in the classroom each day. Implementation is improved through rapid prototyping and the process of testing, iterating, and refining of a solution.
Hear what other district leaders have said about attending our Leadership Design Institutes:
"Your rock-star team put on the most informative and enjoyable conference I've ever attended. Goalbook is one incredible outfit! THANK YOU for an amazing experience. I look forward to returning to share the learnings."
| | |
| --- | --- |
| | Carin Thomas, New York City DOE District 20, New York |
"We left with strategies, skills, and resources that we can bring back and SHARE with teachers and admins. Also, testing our group's product with actual teachers (and learning the design process) was amazing!"
| | |
| --- | --- |
| | Amy Holland, Selma Unified School District, California |
BRING YOUR OWN CHALLENGE TO SOLVE
Our Institutes allow district leaders to bring their own instructional challenge and to form a Design Team with a diverse group of leaders to work collaboratively on the problem.
Goalbook Pathways and Toolkit, including its instructional resources, professional development courses, and strategies, will be woven into each Design Team's work over the two days. The third and optional day allows districts to have a personalized workshop with a Goalbook Success Team member to discuss and plan the district's specific Goalbook implementation.
Throughout the Summit, you'll get the chance to:
Collaborate with district leaders from across the country on developing impactful professional development activities
Produce and collect tangible resources to take back to your district to enhance your existing professional development content around providing access to all students
Interact with Goalbook's team to learn about best practices from an academic perspective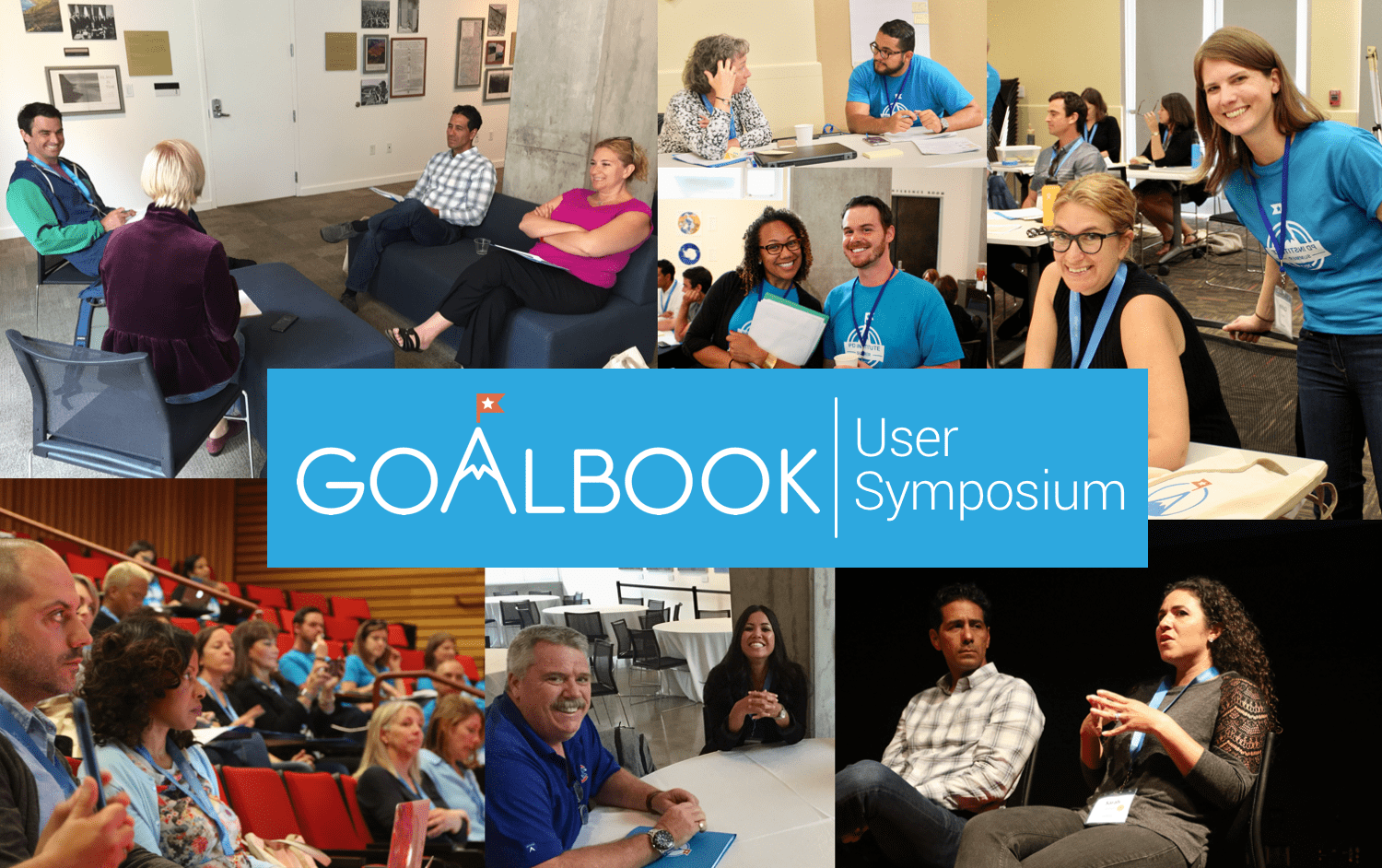 THIS IS NOT YOUR TRADITIONAL "CONFERENCE"
This will not be your usual conference format consisting of speakers, panels, and breakouts. Goalbook's Summits are modeled after the rigorous instruction we hope to see in classrooms. In particular, the 4Cs of 21st Century Skills – communication, collaboration, critical thinking, and creativity – will be applied at an extended thinking level.
Each day will start with professional development topics, with participants working together on hands-on and engaging activities. The afternoon format is best described as an instructional hackathon. A "hackathon" is a term often used in the technology community to describe an event in which people meet to engage in collaborative problem solving. You'll work together in diverse teams discussing, planning, and creating practical solutions to the shared challenges you face as instructional leaders.
An essential component is the value of feedback throughout the process. Instructional leaders give and receive feedback to each other's teams, receive feedback from educators via user interviews, and also from Goalbook's team of Design Facilitators.
The Institute culminates in a Showcase: each team presents and shares their work with everyone in an interactive format. Following the Institute, attendees will have access to all of the resources teams develop and present. Be prepared to be an active participant!
"Thank you for a very fulfilling two-day Institute. It is so evident how the Goalbook team cares about wanting our educational system to improve and positively impact student learning."
| | |
| --- | --- |
| | Susan Chinen, Campbell-Kapolei Area, Hawaii |
"The most valuable part of the institute was constantly circling back to our guiding question, and addressing the barriers that exist for transforming schools to raise expectations and implement best practices for all students. I appreciated learning a new approach and perspective on how to facilitate change."
| | |
| --- | --- |
| | Marie Montalbano, Portland Public Schools, Oregon |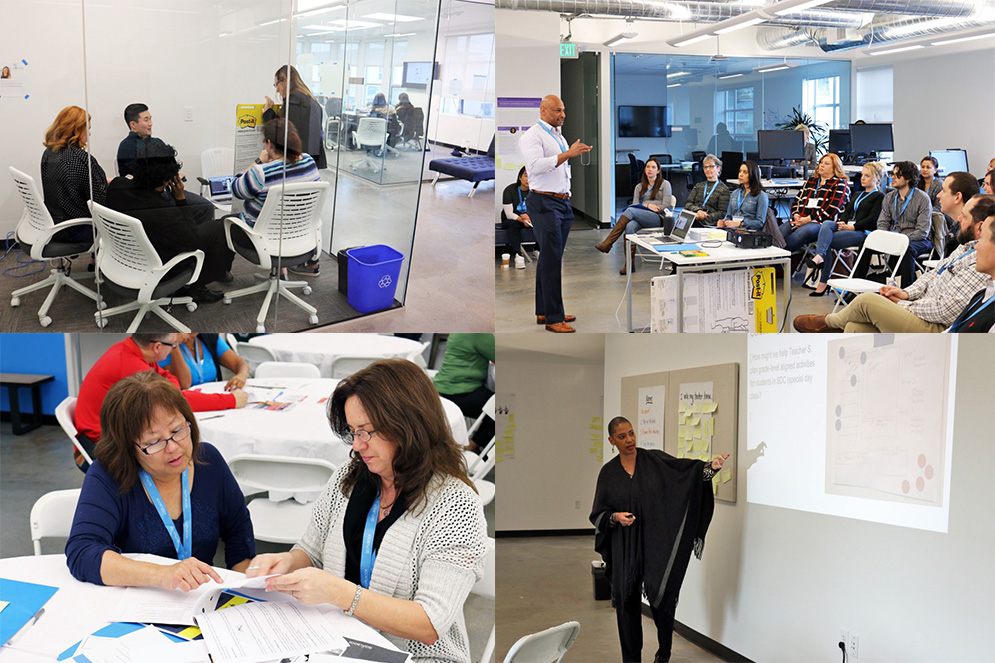 AGENDA
DAY 1: Monday 8:00am | Breakfast and check-in 8:30am | Welcome and kick-off 9:00am | Goalbook Professional Development around essential question 10:00am | Form collaborative Design Teams 12:00pm | Lunch 1:00pm | Work in Design Teams 5:30pm | Dinner DAY 2: Tuesday 8:00am | Breakfast 8:30am | Goalbook Professional Development around essential question 9:30am | Conduct User Interviews with Teams 12:00pm | Lunch 1:00pm | Continue working in Design Teams 3:30pm | Showcase 5:00pm | Optional informal light appetizers/drinks Post-dinner: Optional informal drinks
REGISTRATION REQUIREMENTS
Please read this section carefully. We ask each partner to fulfill the following requirements for registration:
Each district must submit a registration request for a team of 2 to 4 attendees. At least one attendee must be a District Leader and Goalbook Sponsor who received the original invitation
The other attendees should be Goalbook Implementation Leads, such as Instructional Coaches, Program Coordinators, and Principals
Participants must be present for the two days and cannot leave prior to the afternoon Showcase on Tuesday, since that is when each group presents their work
Our professional development institutes are invitation-only events made available to our district partners. Invitations are not transferrable to other individuals. Space is limited and there will be a wait list after spots are filled